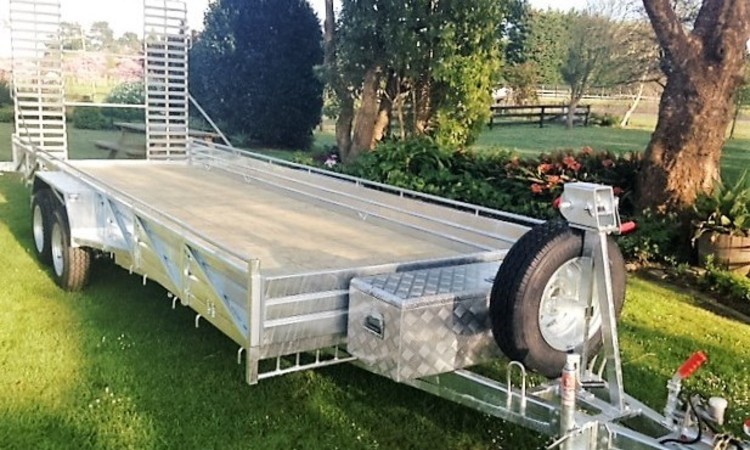 trailer maintenance
How to Properly Maintain Your Trailer
Trailers are prone to wear and tear, just like all vehicles that are exposed to harsh weather and elements all year round. That's why it is important to stick to a regular trailer maintenance schedule, just like you would do with your other vehicles. Even if your trailer is in perfect condition, the regular check will provide your trailer with a longer operating life, ease of use, and won't pose any threat to other road users.

Ideally, a trailer should be inspected after each use, and there are various components that require attention on a regular basis. And since Trailer World has been manufacturing trailers for over 20 years, we have a solid understanding of how to look after them as well. Read our advice and guide below on how to keep your trailer on the road and in good operating condition for years to come.
Keep your trailer clean
At times, trailers are called upon to do some quite dirty jobs. Whether you're hauling rubbish in a cage trailer, carrying garden waste in a heavy-duty trailer, or dirt or sand in a tipping trailer, you'll need to clean your trailer thoroughly on a regular basis to keep it functional. Otherwise, if the trailers are left uncleaned for a lengthy period of time, dirt, grass clippings, debris, and soluble salts can build up and cause damage. However, a good hosing down and a scrub with a heavy brush on a frequent basis should typically suffice.

A great tip for any trailer: when it is not being used, store it with the front lifted to prevent water from pooling in spots where it could cause erosion and other damage.
Check trailer parts for proper lubrication

Dirt and dust particles can cause friction in the moving components of your trailer. Keeping the moving parts of your trailer lubricated will extend the life and reduce friction and corrosion.

The wheel bearings are one of the most important parts. Make sure they are well greased and the wheels turn freely without noise.
Make sure your lights work properly

Keeping your trailer in good condition requires keeping its lights in perfect working order. Take some time to check the wires on both your trailer and your vehicle to verify the wiring is in good shape. Keep an eye out for areas that are rusted, worn, or cracked. If you find any weak points in the wiring, make sure to wrap it in electrical tape multiple times to insulate it.

It's also a good idea to physically ensure that all the lights on your trailer are operating properly, in addition to the connections and electrical lines. This means that the trailer's brake and tail lights turn on as soon as the towing vehicle's, the indicators are in sync, and the hazard lights working.
Ensure the tow coupling is in good condition

The first step in safe towing is to make certain the vehicle and trailer are properly attached, which requires a well-maintained trailer coupling. That's why you should inspect the hitch on a regular basis to ensure that no bolts or parts have become loose. At the same time, check if your vehicle's tow ball is secure and doesn't wobble or spin about. Finally, don't forget to connect the chain.
Keep the tyres well maintained

Since the functioning of your trailer is primarily dependent on its tyres, it's a good idea to keep them well maintained, check the air pressure in your tyres prior to every trip and then fill them if necessary.

Check the tyres with a gloved hand for damage, perishing from sunlight, punctures, or things stuck in the tyre. If you use the trailer regularly, check the tread with a tread gauge. Also, make sure the valve stems are in good working condition as well.

Congratulations! With just a little effort on your part, your trailer is back in great shape and ready for action. It's time to hit the road.

If you need more information on how to maintain your trailer and keep it in good operating order, or if you simply want to learn more about our trailer range, give our trailer experts at Trailer World a call on 0800 286 966.